Possibilities. Opportunities. Outcomes.
Leading with Care in a Tough World
Bob DeKoch and Phillip G. Clampitt, long time collaborators drawing on decades of experience, deliver a key leadership message for our challenging times. 
Available now in Hardcover and eBook
Published by Rodin Books. Distribution by Simon & Schuster, Inc.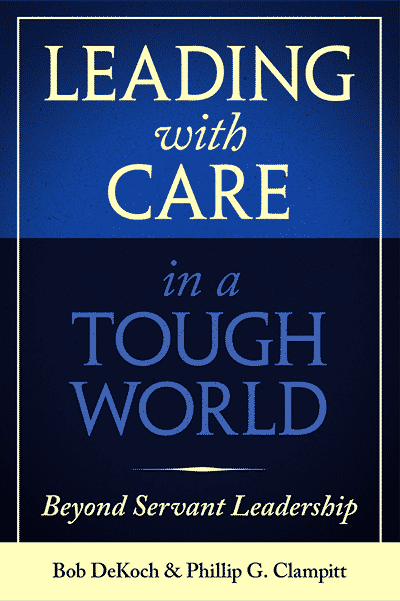 Leading with Care in a Tough World provides a compelling approach to inspire diverse teams and transform any type of organization at a time of intense disruption from globalization, technological change, and a global pandemic. It's an enjoyable read with many memorable stories along with self-assessment questions to ensure you put the key messages into practice.
I have researched and tried to mitigate toxic leadership in organizations. Leading With Care in a Tough World is a welcome contribution, providing recommendations and insights to those who must accomplish difficult tasks in challenging environments.
In a post-pandemic world laden with unprecedented burnout and anxiety, the concept of caring leadership seems more critical than ever. Caring leadership inspires individuals to willingly contribute their unique talents and embrace a common goal. This book is an excellent and practical resource for organizational leaders thinking reflectively about what it really means to lead in times characterized by unparalleled change and complexity. If you aspire to make meaningful change in your organization today, this book will jumpstart your journey.
An island of innovative insight amid an ocean of leadership BS.
Brilliant insight into the realities of leadership. DeKoch and Clampitt expose the manipulations that pass for emotional intelligence and the toxicity of fake positivity. Grounded in the difficult truths of human relationships, this excellent book illuminates the values and beliefs that guide a leader to success.
No matter your age or experience, there's always room to learn more about the art and practice of leadership. This book shines an entirely new light on the subject. A great read. It will make you think.
If you care deeply about your career, your business, your organization, and think today's leadership gurus are all hat and no cattle, congratulations, you've found your needle in a haystack of business books. DeKoch and Clampitt show you how a commitment to certain core beliefs and behaviors can guide you through uncertain times and unleash the power of human potential.
This is a truly great book. I read more than 120 business books a year. Leading with Care in a Tough World is among the best I've ever read. It goes right to the heart of the sort of leadership I wish upon the world. Now more than ever, we need caring leaders that have clear values and a true love of the people that they serve. DeKoch and Clampitt lay out clearly what it takes to move in that direction with thoughtful questions and simple frameworks that will help people reflect on how to become a more caring leader.
This book offers a simple yet powerful promise: caring leaders can produce extraordinary outcomes. With extensive research and sparkling details, DeKoch and Clampitt reveal how leaders at all levels can enlist our basic humanity to bring out the best in their teams.
How can we lead others - and ourselves - in an uncertain and fast-changing world? This humane, thoughtful, and practical new book shows the way.
Leading with Care in a Tough World is a masterful book!!! It is pragmatic, thought-provoking, and exceptionally well-written. Effective leadership today requires you to grapple with a broad range of variables. DeKoch and Clampitt provide a framework, reinforced with real-world examples and self-assessment tools, that will help you turn ideas into effective action. If you're a leader, or aspiring to become one, I strongly recommend this book.
Leading with Care in a Tough World provides insight into leading in the "new world" we live in. As the world around us is adapting to our new circumstances, our leadership strategies and approaches must adapt with it in order to sustain productive and happy team environments. This book goes beyond "how to be a good leader" by preparing you to grow your personal development and heighten self-awareness but also supplying you with a toolbox of strategies to utilize in your day to day. Turn the last page of this book to enter into the world of effervescent teams, ultimate productivity, and better than good leadership.
Unlock the keys to successful leadership in Leading with Care in a Tough World. Filled with inspiring stories, practical advice and years of tried-and-true methods, DeKoch and Clampitt will teach you how to be the leader of the future. An excellent read!
Leading with Care in a Tough World should be readily at your fingertips rather than adorning your bookshelf. With an extraordinarily candid style, DeKoch and Clampitt bring hidden conversations into the open. Enduringly relevant and practical in its application, Leading with Care takes the reader on an adventure of intentional Leadership Evolution.
In this thoughtful book, Bob and Phillip offer both ideas and actions for how leaders lead so that others improve. By embracing uncertainty, progressing by exploring, cultivating the right values, learning and adapting, and being kind, caring leaders coach, inspire, communicate, transform, build relationships, collaborate, and engage others to deliver sustainable performance today and tomorrow. Grounded in insights, illustrated with examples, and actionable through tools, this outstanding and comprehensive book offers practical guidance for today's leaders.
I've read a great many business books, and Leading with Care gave me some new insights. It is dense with not just "the what" but the "how to" and will positively challenge both your beliefs and your behaviors.
Effective leadership is ultimately about serving others, creating value from their points of view. Leading with Care in a Tough World applies timeless ideals to our current, fast-changing moment. This highly readable book can be of use to everyone in any organization or team striving to reach the next level.
What a terrific job you guys did in building out a framework for leadership based on caring and, in turn, building long-term successful organizations. You took what so many leaders miss, - caring for everyone around you as a business formula. This strategy will prevail as you so clearly point out, no matter what the business or challenge. So wish that this could be the bible for business in our country.
"Leading with Care in a Tough World," I found that I could not put the book down. With 60 years of experience in nonprofit organizations and corporations large and small, I thought there was not much more for me to learn about leadership. This was not the case. This book should be required reading for aspiring leaders and for leaders in small organizations as well as large corporations.
Imagine a world where possibilities, opportunities and outcomes are limitless.
Learning the subtle practices to engage people in profound ways is the magic of caring leadership. Learn this magic and become a great leader.
Read our blog for resources and inspiration on a variety of current leadership topics.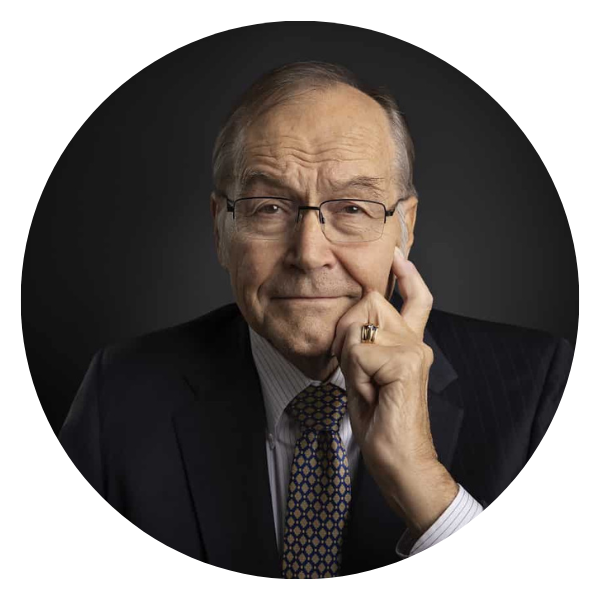 Bob has spent his entire career in leadership roles, coaching and mentoring hundreds of aspiring leaders. This has been his lifelong work. His passion for people and for extraordinary outcomes is what drives him. Bob is available for interviews, stories or podcasts. He offers advice and opinions on an array of leadership topics.